e-Newsletter - Volume 1, Number 1
THE HIGH COST OF TRAFFIC TICKET "CONVICTIONS"; THE TEXAS POINT SYSTEM AND SURCHARGES
by Todd Tkach
Most of us have received a [traffic citation] at some point in our driving career. Part of that delightful experience probably included paying a fine ranging from $120 to $500. OUCH!! But, simply paying the fine results in a "conviction" and may subject you to "Surcharges" assessed by the Texas Department of Public Safety ("DPS").
Don't simply pay a traffic citation.
Hire an attorney to avoid a conviction and surcharges.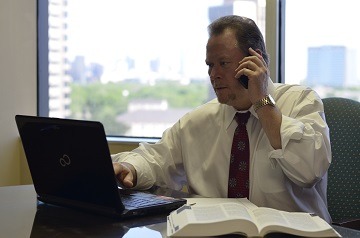 In days past, the primary concern with being convicted of a traffic citation was that your automobile insurance rates would increase. Additionally, there were costs associated with reinstating your driver's license if it was suspended for numerous traffic citation convictions. While those costs may be significant, they may pale in comparison to the cost of "surcharges" assessed by the Department of Public Safety.
For decades, the State of Texas has had a "Point System," for drivers. Essentially, "points" are attached to convictions for certain traffic violations. Several years ago, the "Point System" became a source of revenue for the State with the adoption of the "Driver Responsibility Program." Now, traffic ticket convictions not only increase insurance rates, but may result in the assessment of huge "surcharges" by the Texas Department of Public Safety.
Surcharges are assessed in two ways: 1) Having 6 or more Points; and 2) Convictions for certain traffic violations. A Texas driver gets 2 points for most traffic violation convictions (3 points if a crash is involved). "Points" remain on a driver's record for 3 years. A yearly $100 surcharge is assessed for 6 points; with another $25 surcharge for each additional point. The surcharge continues to be assessed as long as the Points total 6 or more.
Convictions for some traffic violations have automatic surcharges. For example, being convicted of driving without insurance or driving while license invalid carries a $250 yearly surcharge for 3 years ($750 total). Convictions of driving without a driver's license result in a $100 annual surcharge for 3 years. Can you imagine being pulled over and ultimately being convicted of driving without insurance and driving while license invalid. Not only do you have to pay the fines, but you just obligated yourself to a forced "donation" to the Texas Department of Public Safety in the amount of $1,500. And, if you don't pay, your driver's license is immediately suspended. Continuing to drive after a suspension exposes a driver to more convictions and even more surcharges. It can be a vicious cycle of unending surcharge.
The solution is to avoid a "conviction." [The worst thing you can do is simply pay a traffic citation.] If you do that, you just entered a plea of guilty and are "convicted" of the charge.