e-Newsletter - Volume 1, Number 2
CAR WRECK VICTIMS WITH ATTORNEYS GET 3½ TIMES MORE MONEY
by Todd Tkach
A 1999 study from the Insurance Research Council concludes that people in car wrecks who were represented by attorneys received, on average, 3 ½ times more money in settlement than those who were not represented by attorneys. The real question is not whether people injured in car wrecks who are represented by attorneys receive more money in settlement, but why? The simple answer is that car wreck attorneys are experts at what they do! Attorneys are no different than other people in any other type of vocation. With education, experience and ability, you get good at what you do every day.
Click here for more information.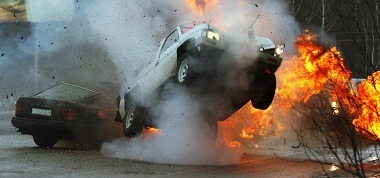 So, what is it that we car wreck attorneys do every day? To begin with, attorneys have had to undergo a rigorous education, which doesn't stop upon graduation from law school. The educational process, both formally and informally, never stops. We must stay current with the ever changing laws and understand a potential jury's perception of a personal injury case. After all, that's why it's called the "practice" of law. Education and experience are extremely important when dealing with the all-powerful insurance companies. Knowing the procedural and substantive laws at play is essential to maximizing a monetary recovery in a personal injury case.
Car Wreck Investigation
With a new car wreck case, we start with a thorough investigation, focusing on obtaining information, documentation and physical or tangible property that could be admitted as evidence if the case proceeds to a jury trial. Even if the case doesn't go to trial, it will settle based on the evidence that can be proved and demonstrated at trial.
Proving Fault and Damages
Our investigation focuses on the two main elements of a car wreck case; "liability" and "damages". In simple terms: Who's at fault and how much money is appropriate for compensation? To be clear, these are the elements that insurance companies will attack. They will try to demonstrate that their insured was not at fault and that the victim's injuries and damages are either non-existent or less than claimed. Liability is not always clear and sometimes requires in depth investigation or an Accident Reconstructionist. Even when liability is clear, the insurance company will undoubtedly attack damages. On first thought, "damages" seem to be pretty clear. But, there are many types of damages recognized by Texas law that most people are probably not aware of. A qualified car wreck Lawyer will determine all possible types of damage and will put together the evidence to prove them.
Bodily Injuries
The physical injuries suffered from a car wreck can be the most challenging from which to seek compensation. In years past, as a rule of thumb, some people used to use a multiplier of the amount of the medical bills as their measure of their damages. Those days are long gone! In this age of tort reform, there is no magic formula to determine the value of physical injuries. The knowledge and skill of a qualified car wreck lawyer is necessary to maximize a recovery for physical injuries. Some of the damages that may be recovered for physical injuries include claims for both past and future medical bills, physical impairment, mental anguish, physical pain and suffering, loss of consortium and lost wages. Additional damages include disfigurement, loss of body part, bystander claims and fear of future disease or disfigurement. Demonstrating these damages at trial requires a painstaking development process, which we have done hundreds of times.
After the case is fully prepared, it must be presented to an insurance carrier for demand and settlement. If a settlement can't be reached, we take it to a jury trial where we ask not only for all of the available elements of damage discussed above, but also pre-judgment interest, court costs and post-judgment interest until the full amount is paid.
About Us
Since 1992, the attorneys with the Law Office of Todd E. Tkach, P.C. have represented thousands of personal injury victims throughout the State of Texas. We have the education, knowledge, training and experience to properly prepare a car wreck case and to artfully present it to insurance adjusters and juries. Client service and satisfaction are paramount. We would like the opportunity to demonstrate to you our commitment of trust, tenacity, dedication and ability.
For More Information: